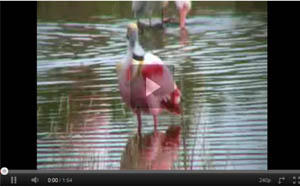 Roseate Spoonbills at Merritt Island
Click image for YouTube Video
Ben's Bird Babbles
I Prefer A Big Spoon
Aside from my family, my business, and bird watching, going out fishing is
one of my greatest passions in life. When I am out in my boat fishing I
seem to be at one with the outdoors and all the nature that surrounds me. It
really doesn't even matter if I catch any fish are not, because when I'm
out fishing all of my worries seem to vanish.

On a recent trip to southern coastal Georgia fishing for sea trout and red
fish (a member of the drum family) in the inner coastal saltwater
marshlands I had many wonderful opportunity's to bird watch. As the tide
rolls out of the saltwater marsh the wading birds come flying into the
exposed grassy mud flats and oyster beds where a huge meal awaits them. It
is common to see great blue herons, snowy egrets, wood storks, great
egrets, tricolor herons, and white ibis. While all these birds are
incredible in their own respect, one of my favorite birds to watch is the
beautiful, unique roseate spoonbill.

Certainly the roseate spoonbill is best known for its stunning pink color
and unusually shaped bill, but what I enjoy most is watching them feed.
The spoonbill dips its long bill vertically into the water and swings it
side to side in wide arcs as it forages for food. This unusual behavior
is called "head swinging." Interestingly, the spoonbill's nostrils are
located at the top of its bill and not the bottom, so that it can have its
bill in the water can still be able to breathe.

A spoonbill feeds more by touch than by sight. This is a big benefit since
spoonbills often feed in water that is muddy or clogged with dense
vegetation. Their spoon-shaped bill has sensitive touch receptors that
detect prey. When something touches the inside of the spoon, the bill
snaps shut, and voila...sushi! Their diet is made up of small fish,
shrimp, insects, snails, and other small aquatic animals.

Spoonbills are very social birds. Commonly they are seen with other water
birds. They nest in colonies with ibises, storks, cormorants, herons and
egrets.

Now you better understand why I enjoy fishing so much? Perhaps it is not
as much for the fish I catch as it is for the birds I see and love.

Video credit: flwildoutdoors's Channel

Merritt Island
http://www.wbu.com/pathways/merritt.html

WBU Pathways To Nature Fund
http://www.wbu.com/pathways/fundrecipients.html

Wild Birds Unlimited's Pathways To Nature was established in 1999 and has
donated more than $750,000 to 24 projects. The projects funded include the
creation and maintenance of trails, boardwalks, wildlife-viewing platforms
and nature center exhibits. Every purchase you make helps support such efforts.