October 2020 MyWBU No Tricks - Just Treats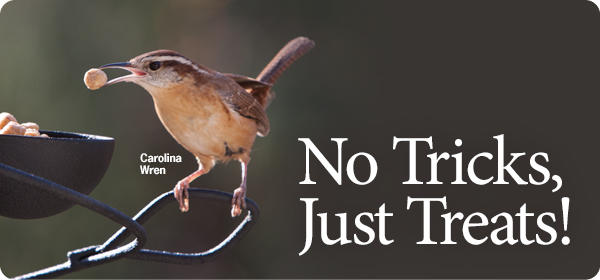 Shop us online and get a Treat for the Birds! mywbu.com/fortwayne
Free 5 lb. bag of Supreme Bird Seed included with Every online order 10/29 thru 10/31. No Tricks, Just Treats from WBU! Happy Halloween to All our wonderful customers! It's Easy to Register & Shop at mywbu.com/fortwayne FREE In-store or curbside pickup and FREE shipping to your door on orders over $75
Share Some Goodies With Your Birds!
It's the time of year when little goblins come knocking at your door - even those of the feathered variety. Share some goodies with your backyard birds by offering treats like Bark Butter® Bits, Bugs & Bits™ or a delectable Seed Cylinder. You'll make this time of year less spooky for them by providing a reliable source of food. And you'll get to enjoy watching the activity at your feeders.
FREE 5 lbs. Bag of Seed Blend With Any Online Purchase* from mywbu.com/fortwayne
*Valid for online purchases at participating store listed below. One 5 lb. bag of Supreme blend per customer please. Offer not valid on previous purchases or sale items. Offer valid for in-store pickup, curbside or shipping orders.
Offer valid 10/29/20 thru 10/31/20.