Holiday Season 2023 Hours & Service Update

Updated: November 2nd 2023
Check out our amazing lineup for November!
Business Hours: Monday through Saturday 10am-6pm, Sunday 12pm-5pm.
ONLINE Shopping... If you prefer to not shop in-store, you can still keep your feeders filled through curbside ordering and pickup. Please call ahead to place your order by calling (260) 484-3000 or order online at mywbu.com/fortwayne to have items shipped FREE on orders over $75 or to arrange for free curbside pickup.
**Daily Savings Club members! You will receive your club discount and accrue Bird Bucks while shopping online. Please be sure to register on MyWBU.com/fortwayne with the SAME EMAIL ADDRESS that we have on-file for you to assure that you receive your club discount**
Our online store is open 24 Hours, 7 days a Week! Curbside Pick-Up Service: Easy as 1-2-3!
Call us for a phone order at (260) 484-3000 or Place your order online at mywbu.com/fortwayne and select "pick up in-store" or "curbside" at checkout. We'll send you an email to let you know when your order is ready.Come to the store or let us know when you arrive by calling us at (260) 484-3000. Then pop open your trunk and wait in your car.
We'll bring your order to your vehicle and place it in the trunk. No personal contact required! (But we can still smile and wave.)
We're also happy to ship your order directly to your front door. Simply order online at mywbu.com/fortwayne and select "delivery" at checkout. FREE Shipping on orders over $75 and only $7.99 for smaller orders*. Exclusions apply.
Stay Healthy & Enjoy the Birds! Sincerely, Your Fort Wayne WBU Team
Jonas, Linda, Jan, Dena, Denise, Bill, Julie, Heather, Chris, Mikael, Tami, Kim & Allison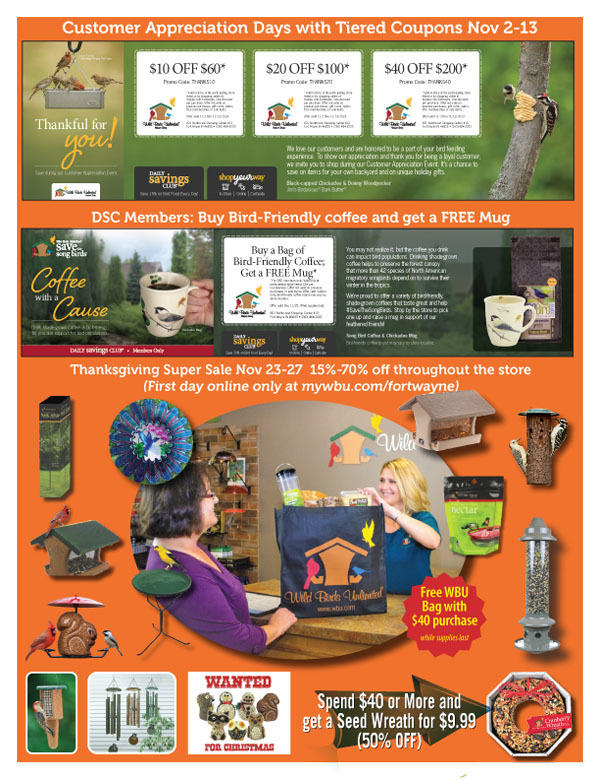 ---