ACRES Annual Member Meeting & Picnic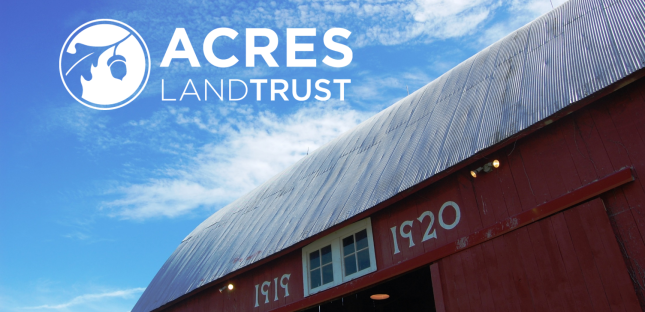 ACRES ANNUAL MEMBER MEETING & PICNIC
SUNDAY, SEPTEMBER 17, 1 – 4 PM
Tom and Jane Dustin Nature Preserve, Dustin Barn and ACRES Office
1802 Chapman Road, Huntertown, IN 46748
Parking is at the Dustin Barn, located east of the main drive
Picnic, $10** / person.
Register here by September 8 to attend.

ACRES members, celebrate the land you love on land you protect together!
ACRES' Annual Meeting is a picnic. You're welcome to come and go as you please and choose to join scheduled activities.
Share a guided hike, chat with your fellow members and relax with simple food and great music.
You'll find picnic tables and benches in the barn, or you can bring your own picnic blanket, favorite lawn chairs, even frisbees, kites, and binoculars. You help protect this land — come out and enjoy it!
Annual Meeting Schedule

1:00 and 2:30 pm | Annual Report by Jason Kissel, executive director, in the Dustin Barn:
Jason will speak twice, welcoming members who arrive later
1:15 – 3:45 pm
In the Dustin Barn
Bluegrass by Audie Blaylock and friend
Homemade Stew Buffet by ACRES Board Members
Meat and vegan options. Breads, fruits and veggies, too.
At the ACRES Office*
Dessert Buffet
Vote on board members, articles of incorporation. Click to see voting information.
On the Tom and Jane Dustin Preserve
Choose Your Own Adventure – Optional Guided Hikes
All hikes leave from the Dustin Barn
1:15 – 2:15 pm | First round of optional hikes
Forest Bathing | led by Christy Thomson, certified Forest Therapist
Follow Christy's "invitation" to experience this natural place and yourself through your senses and play. Christy will offer a variety of prompts, allowing you to explore your connection to the natural world at your pace and comfort level. Participants often leave Forest Bathing feeling refreshed, invigorated and relaxed.
Flat hike above Cedar Creek | led by Jeff Ormiston, Naturalist, Allen County Parks
Enjoy Jeff's extensive experience leading hikes and engaging participants in understanding natural places. You'll learn about the preserve and perhaps generate new questions about what you discover along the trails. Participants on Jeff's hikes enjoy his enjoyment for leading hikes and his attentiveness to participant's spontaneous questions.
2:45 – 3:45 pm | Second round of optional hikes
Nature Literature Trek & Talk | led by Theresa Ransbottom, ACRES volunteer
Share the love of natural places with writers through the ages as Theresa takes you on a walk through natural literature. You will hear a variety of short writings selected specifically for this occasion. Participants enjoy this hike format – stopping along the trails to listen, then responding with others; participants also value Theresa's care in selecting texts and facilitating conversations.
Hike down the ravine to Cedar Creek | led by Larry Yoder, Director Emeritus, Merry Lea
Enjoy Larry's long history with ACRES, with Tom and Jane Dustin and in the Cedar Creek corridor. You will learn how this place's distinct tunnel valley was carved by glaciers and perhaps hear a few stories about Tom and Jane and Larry's own life here in the corridor. Participants appreciate Larry's background as an educator, his personal connection to this place and his enthusiasm for protecting and managing land.
Picnic, $10** / person.
Or, call the ACRES office at (260) 637-2273 or stop by at 1802 Chapman Road, Huntertown, IN 46748 by September 8.