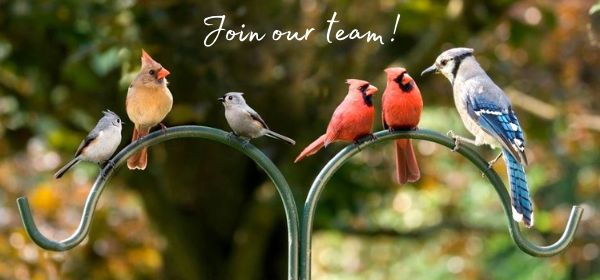 Join Our Team – Backyard Bird Feeding Specialist
Nature lovers welcome! If you love nature and would enjoy helping people enjoy their backyards and the hobby of backyard bird feeding, consider an opportunity with Wild Birds Unlimited of Fort Wayne.
We are excited about birds, nature and PEOPLE and are committed to creating a retail experience to share that enthusiasm. As part of our team you will enjoy an environment that is professional and fun, with an emphasis on continued learning. Our team makes a difference!
We have an opening for a Backyard Bird Feeding Specialist to work 15-35 hours per week.
We offer:
o Positive, collaborative work environment
o Flexible scheduling
o Competitive wage and employee discount
o Simple IRA with matching after 12 months of employment
o Bird, hobby, product and sales training needed to excel at your job
The role entails:
o Great communication and customer service skills a must
o Interest in nature and enthusiasm for helping people learn about backyard birds
o Attention to detail, positive attitude and willingness to continually learn and improve
o Willingness to learn and accurately operate our computerized point-of-sale system
o Ability to lift and carry seed bags (40 lbs) for our customers – a foundation of our service!
o Ability to work in a fast-paced setting and spend extended periods (8+ hours) of time on your feet
o Weekday, weekend and holiday availability; Backyard Bird Feeding specialists will be required to work during our peak busy periods, including some weekends and holidays
Responsibilities include:
1) Customer Experience (Job 1!): Listening to and working with our customers to ensure they have an exceptional experience. This includes carrying a customer's seed bag(s) or other purchases to their car
2) Product and Hobby Knowledge: We carry a vast and varied inventory and it's critical that our team members have a solid working understanding of our products and how each can help our customers better enjoy the hobby of backyard bird feeding. It is expected that all team members will take a "continued learning" approach to their job at WBU of Fairfield
3) Inventory Management: Keeping shelves fully stocked and clean and receive and stock newly arrived product
You will find an application HERE. A completed application is required for consideration. Please submit your application and resume to [email protected] or drop it off at the store. We look forward to hearing from you!